How To Be a Wine Country Celebrity - If Only For A Day...
By Howard Kotliar and Ken Barnes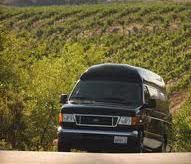 Any time you enjoy Wine Country with friends it
is
special...
Yet, when it is done with a driver and a limousine it makes it that much more enjoyable...
So let's take it one giant step even further than a limousine and make the Wine Country experience truly magical as a Celebrity - yes, even
you
!
Step into the opulent and luxurious surroundings of a majestic music hall, surround sound theater and a gourmet cheese palace comprised of posh captain's chairs engulfed in leather and experience Wine Country as you have never ever done before...
Feeling and being treated just like the Celebrity you deserve to be treated as.
Recently the Temecula Night Out creative crew did just that with "A Vineyard Tour of Temecula". Howard, Ken,Taryn, Monte & Serina lived the Wine Country experience for a day - all as Celebrities AND as you can too.
Rick the owner and personal Celebrity Host was our driver and escort throughout our captivating day in Wine Country. As soon as Rick met us and we stepped up into the grandiose interior of the Wine Country Executive Van the atmosphere around us morphed into one of enchantment and musical enlightenment with just the right amount of light jazz playing in the background. At that very moment Rick said, "Plug your iPod or iPhone right here and listen to your very own music mix. That is exactly what Ken did!
Soon as our music mix started to play and we sat in the leather captain's chairs, we looked around in total awe as we were surrounded by a plush and magnificent grand interior. From this very moment we just knew our journey was going to be one of pure enjoyment, fun and everlasting memories for the next five hours. Even most important, we knew we were going to be safe and secure arriving with Elegance, Grace and Style.
As we drove to our first destination Leonesse Cellars and as many times as I have driven the vine laden routes of Temecula Wine Country, I have never seen it from the perspective that I was seeing now. Sitting high above the vines looking out the panoramic windows that surrounded and enveloped us, this new view of Wine Country was the most picturesque one I have ever seen. It was truly a site out of a cinematographer's vision. I actually felt like I had never been here before and this was my very first experience of Temecula Wine Country. This feeling was so thrilling and exhilarating!
As we pulled into Leonesse to experience their wonderful wines, the feeling of being in Wine Country in this stunning chariot was just so invigorating. As Rick escorted us down the steps from our luxury vehicle, we knew our time at Leonesse was going to be one to remember and we were right! We took pictures of each other like we have never been here before, the feeling was pure excitement. Inside Leonesse, Erin our experienced and talented Wine Host was the most gracious as well as entertaining and made us feel extra special as well. Monte & Serina made some brand new friends and saw some old ones that they proudly brought out to see our Celebrity transportation! Off to our next stop, Danza del Sol...
We of course continued our merriment and on-going photo session in front of Danza del Sol's brand new tasting room. Our time together was getting even more enjoyable and as we entered the Tuscany style tasting room we were greeted by Mary, (the tasting room manager) who was just as sweet, engaging and welcoming as could be. We were also fortunate enough to visit briefly with Mike Tingley, Danza's creative and truly superb Wine Maker, who by the way has crafted some of the best 2010 vintages we have ever tasted (Make sure to give them a taste when they are released). Erica our Wine Host here was truly a joy, very helpful and knowledgeable. After some delectable tastings and a little shopping we were off to Oak Mountain Winery...
As we entered our chariot again, for our short journey to Oak Mountain we were greeted by the most magnificent and creative gourmet platter of cheeses, grapes, meats, crackers and breads we have ever seen
or tasted
... it was pure heaven in every bite! The grapes were so succulent, sweet and tasty it was like they were just picked from the waiting vines themselves. The array of cheeses and crackers was so stunning, a picture had to be taken before we all literally deliciously devoured it...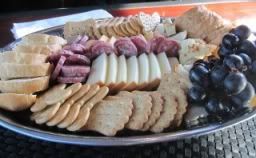 Arriving at Oak Mountain Winery, we were greeted by their own celebrated and well known Wine Hosts Annie and Debbie - who are forever the life of the party that is always happening when you enter Oak Mountain's Prestigious entry doors. As we are enjoying their award winning wines, we could not believe how fast our "Wine Country Celebrity Day" was going... All to soon we were off to our last stop, Thornton Winery. To our GREAT surprised when Rick graciously once again helped us in to our awaiting lavish transportation there was yet another astonishing gourmet cheese tray, yet this time with a very welcome addition - VARIOUS TYPES OF HEAVENLY CHOCOLATE! This tray and chocolate went into our stomachs even faster than the first one! Thornton here we come...
As we approached Cafe Champagne at Thornton to enjoy our last wine tasting of our celebrated day, there was an interesting "Buzz" in the air, one that was different and very intriguing... What we uncovered was actually taking place, of all things and coming as a complete surprise to us... was a professional photo shoot for Thornton Winery. It in fact turned into a perfect Celebrity ending to our Celebrity Day in Wine Country!
The photographer was setting various stages and settings for their shoot and some of the talented and effervescent team of Taste of Temecula was also in attendance. They all (spontaneously and completely unplanned) ended up sharing center stage with some of us from Temecula Night Out and selected others for the model shoot... Needless to say, at Thornton they don't skimp on anything and the wine and food flowed as the camera shutter clicked.
When you spend a day with Rick as your superlative host you will feel like a Celebrity and you will end that special day truly not wanting it to end as you go back to the real world, (Rick practically had to pry us out) we simply did not want to leave! So even if there is no photo shoot, after a day spent with "A Vineyard Tour of Temecula" you will go home feeling like you were a star in one of your own making as well. You owe it to yourself to be pampered and spoiled, a feeling like that will truly linger for days, even weeks and will serve to bring back warm priceless memories of one very special day in Temecula Wine Country.
A Vineyard Tour of Temecula